The Great Southern Illinois Pumpkin Smash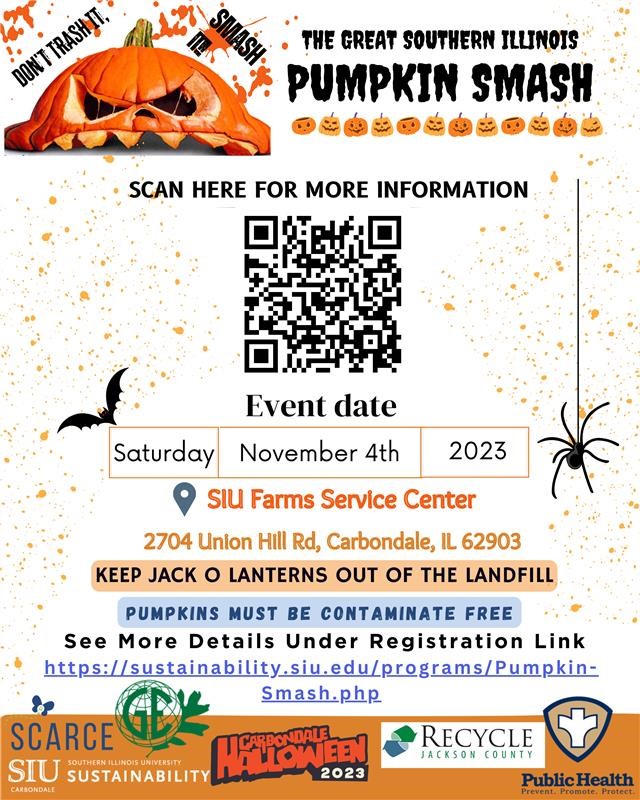 11/04/2023
9:00 AM – 12:00 PM
More than one billion pounds of pumpkins are grown in the U.S. every year, and after they've been used for Halloween decorations, pies, and jack-o'-lanterns, millions of them will end up in a landfill. Help Compost More Pumpkins - Get Involved! SIU Sustainability Office, Jackson County Health Department, and Green Earth Inc. have partnered to host the first Southern Illinois Pumpkin Smash Event!
Extra Information: Pumpkin drop off and some hands-on pumpkin smashing activities will be offered in this fun and family friendly event! The resulting pumpkin remains will be hauled off to SIU's Forced Air Composting Facility on Pleasant Hill Road and kept out of the landfill.

This is a family friendly event! Bring your pumpkins and dress for outdoor fun and play! Busy that day? No problem! There will also be a drop and go site!

We hope to see you there! Don't Trash It, Smash It!

Note: Pumpkins must be contaminate-free.

NO: glitter, candles, yarn, stickers, googly eyes, plastic ears, non-biodegradable materials, and no oil based or acrylic paint

Questions? Contact:
Aimee Lemrise, alemrise@siu.edu
Angie Kuehl, angiek@jchdonline.org

More information can be found here: https://sustainability.siu.edu/programs/Pumpkin-Smash.php

Registration appreciated, but not required.
Location: SIU Farms Service Center, 2704 Union Hill Rd, Carbondale, IL 62903
visit website
EMAIL FOR MORE INFO